About Caninsulin®
Manage diabetes and enjoy life with your dog
Caninsulin® is an injectable insulin suspension that reduces hyperglycaemia (high blood sugar) in dogs with diabetes mellitus.
Caninsulin® is an insulin, designed to work specifically for your dog. It starts working quickly, and is long-lasting.
Controls glucose levels.
Lessens signs of diabetes.
The first insulin licensed for dogs and cats1.
U-40 insulin syringe or VetPen.®
Used for over 25 years worldwide*.
Unlike other insulin products, Caninsulin® should be shaken to mix properly to ensure adequate re-suspension.
"I'm glad my owner had my vet check me for
diabetes. Now that it's managed, I feel like
playing with my favorite ball again!"
– SPIKE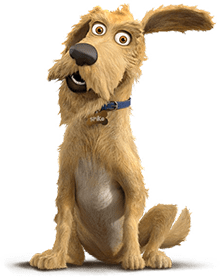 1. Caninsulin Summary of Product Characteristics (SPC).
How to Use
How to Give Caninsulin® Using a U-40 Insulin Syringe
Important dosage information
Doses of insulin are measured in units: 40 IU/ml insulin contains 40 International Units (IU) per millilitre (ml) (1 ml = 1 cc).
Use Caninsulin® with U-40 syringes only
These syringes are designed specifically for use in animals. Using a syringe other than the size prescribed by your vet or vet nurse (such as a U-100 syringe that is designed for use in people) will result in incorrect dosing. This could be dangerous for your dog.
Your vet will prescribe Caninsulin® for your cat
Follow your vet's instructions to properly give Caninsulin® to your dog. Your vet or vet nurse will:
Determine the amount of insulin and frequency needed
Advise on proper storage and handling
Show how to draw the insulin from the vial or administer using VetPen
Instruct on how to give the injection
When you feel comfortable, your vet or vet nurse will give you everything you need to care for your dog's diabetes at home.
Preparing the dose
After washing your hands, take the Caninsulin® vial out of the refrigerator. Before first use shake the vial thoroughly until the insulin is uniformly milky, allowing any foam to disperse. On subsequent occasions simply invert the vial a few times before use to re-suspend the liquid to a uniformly milky consistency.
Carefully remove the cap from the needle and insert the needle into the vial.
Turn the vial upside down, making sure the tip of the needle remains in the liquid in the vial.
Withdraw the correct dose into the U-40 syringe.
Before removing the needle from the vial, check the syringe for any air bubbles.
If bubbles are present, hold the syringe up and tap its side until the bubbles float to the top. Push them out with the plunger and withdraw the correct dose.
Remove the needle from the vial. Be careful that you do not inject yourself.
Giving the injection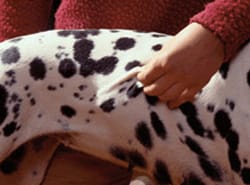 Pinch a fold of your dog's skin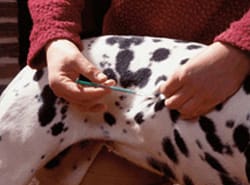 Gently insert needle in centre of fold of skin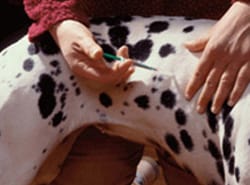 Push plunger as far as it will go, pull needle out, and dispose of syringe appropriately
Giving injections may seem daunting – but with practice, it can be easy and fit into your daily routine.
The Caninsulin® injection should be given under the skin, 2 to 5cm (3/4 to 2 inches) from the middle of your dog's back, varying from behind the shoulder blades to the middle of the back region and alternating sides.
Gently insert the needle into the centre of the folded skin.
Push the plunger until all of the insulin is given.
Pull the needle out and dispose the syringe into an appropriate sharps container.
Injection Tips:
Injection site can depend upon your vet's recommendation and what is best for you and your dog.
Alternate the injection site between left and right side for comfort and best results. Repeat injections at the same site can lead to ineffective treatment.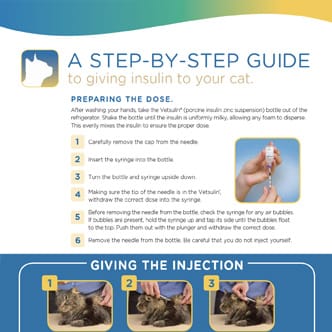 Find more information, FAQs and troubleshooting for Caninsulin®. Read Now
Safety Information
Important Safety Information
Caninsulin® is contraindicated during periods of hypoglycaemia (low blood glucose levels). Keep out of reach of children. As with all insulin products, careful patient monitoring for hypoglycaemia and hyperglycaemia (high blood glucose levels) is essential to attain and maintain adequate blood glucose control and prevent associated complications. Overdosage can result in profound hypoglycaemia and death. It is recommended to have a box of powdered glucose at home. Signs of hunger, increasing anxiety, unstable locomotion, muscle twitching, stumbling or sinking in the rear legs and disorientation indicate progression of hypoglycaemia and require immediate administration of glucose solution and food to restore blood glucose levels. The safety and effectiveness of Caninsulin® in kittens, breeding, pregnant, and lactating cats has not been evaluated.
See package insert for full information regarding contraindications, warnings, and precautions.
User Safety Warning
For use in animals only. Keep out of the sight and reach of children. Accidental self-injection can provoke clinical signs of hypoglycaemia and there is a low possibility of an allergic reaction. In case of accidental self-injection seek medical advice immediately and show the package insert to the doctor. In the unlikely event or accidental eye and skin contact, wash the area with clean, running water. Avoid contact with eyes. In case of contact, immediately flush eyes with copious amounts of water for at least 15 minutes. Accidental injection may cause clinical hypoglycaemia. In case of accidental injection, seek medical attention immediately. Exposure to the product may induce a local or systemic allergic reaction in sensitised individuals.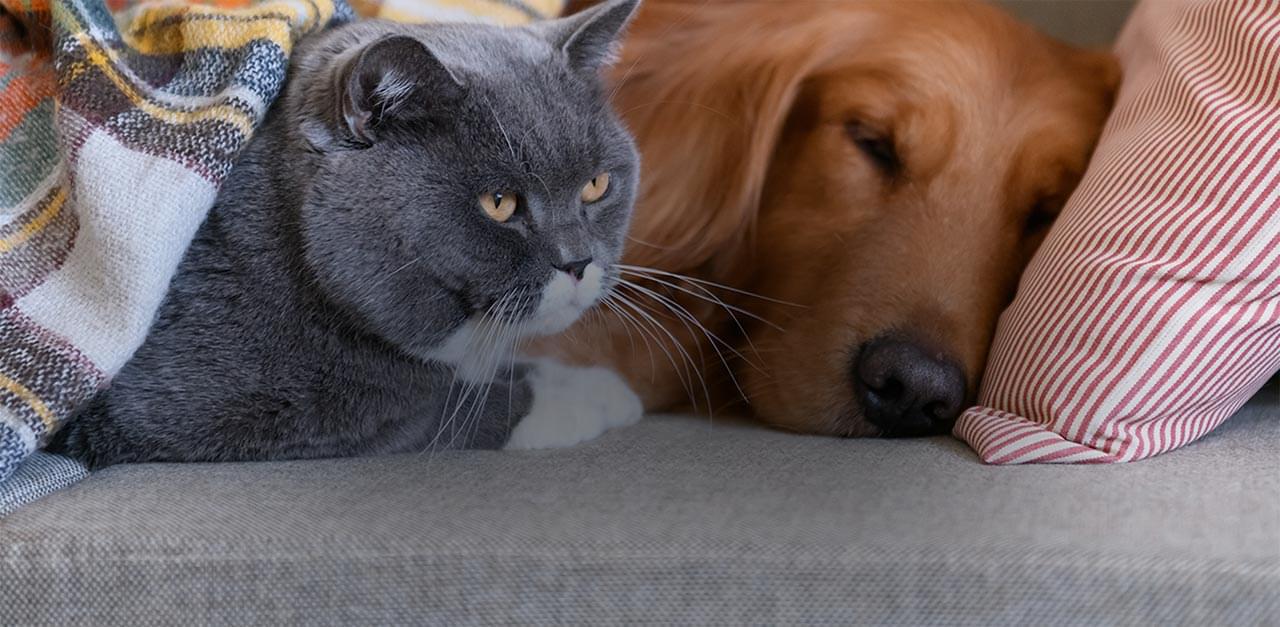 Talk to Your Vet Today
to learn more about pet diabetes, and how cats and dogs can lead a happy,
healthy life with proper management